Bicycle & Pedestrian Accidents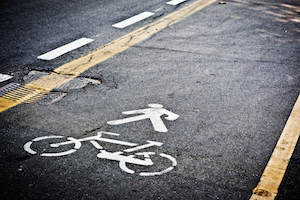 As advocates for pedestrian and cyclist rights, The Murray Law Firm offers experienced representation to victims and families of bicycle and pedestrian accidents throughout the country.
Handling a pedestrian or cycling injury case requires knowledge and experience. All too often, victims of cyclist and pedestrian accidents are incriminated for exercising after dark, failing to heed to vehicles or failing to wear bright and reflective clothing. The Murray Law Firm understands the various causes behind these accidents are often the fault of a negligent driver or a lack of roadway safety features. We have extensive experience in representing victims of driver negligence, including distraction, impairment, sleep deprivation, and speed.
Victims of such accidents are entitled to pursue a legal claim for negligence with insurance carriers. Negligence, under the law, is generally defined as a lack of the degree of care, which would have been exercised by an ordinarily prudent person under the same or similar circumstances. Where negligence exists, the victim and their family may be entitled to an award of damages that could include, among other items, substantial monetary compensation for: pain and suffering; past and future medical expenses; loss of wages and future earning capacity; loss of consortium; and, emotional distress.
In our experience, insurance carriers are often more concerned with limiting their financial exposure than protecting the needs of victims and their families. As such, having an experienced personal injury firm to negotiate such claims can often mean the difference of hundreds of thousands of dollars in compensation.
The Murray Law Firm has recovered millions of dollars for its Clients, and recently obtained a $29.25 million dollar verdict in Georgia.
We represent our Clients on a contingency agreement, which generally means that no fees or payments are owed until and unless we recover. Anyone seeking further information or legal representation is encouraged to contact us via e-mail or by telephone at CALL NOW: 404.842.1600. Consultations are free and confidential.